Chief of Army Scholarship Program
February 3rd, 2016 by Clare O'Neill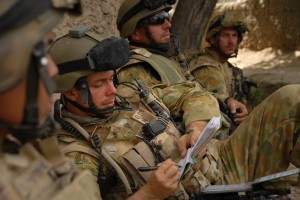 The Chief of Army Scholarship Program is awarded annually in four strands:
Trooper Jonathan Church Award. Awarded to junior soldiers and junior officers (Private to Captain) who personify Army's core behaviours.
Army Foundation Scholarship. Awarded to Sergeants to Lieutenant Colonels for the purposes of academic research or professional development. Case study here.
Army Industry and Corporate Development Program (AICDP). Awarded to Sergeant to Warrant Officer Class 1 and Captain to Lieutenant Colonel to work in selected civilian organisations in order to gain exposure to contemporary corporate environments across a diverse range of sectors. Ask your Career Management Agency for more information.
Army Strategic Scholarship. Awarded to a Colonel to attend a residential strategic studies course at Johns Hopkins University.
This Scholarship Program reinforces Army's intellectual foundation to robustly face future war.  Furthermore, the program facilitates professional development of high performing personnel to aid in developing Army's future strategic leaders, and targets research to align with Army's longer term research and development plans.
Ask your boss for more information about these opportunities including how to apply and submission dates. Also see your respective career management websites for further information and links to the respective directives.