Army Foundation Scholarship
February 21st, 2016 by Clare O'Neill
General Outline
The Army Foundation Scholarship is one of four strands to the Chief of Army Scholarship Program. It was previously known as the Chief of Army Scholarship and is awarded to high performing individuals at the rank of Sergeant-to-Lieutenant Colonel for the purposes of academic research or professional development usually over a period not exceeding 12-months. There is no limit to the number of scholarships that can be awarded; however, historically only one to two scholarships have been awarded annually.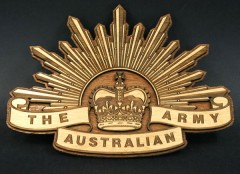 The purpose of the scholarship is to:
Facilitate the professional development of high performing Army personnel through their exposure to a diverse range of experiences and complex activities not normally available in Army.
Application Process
The application process is as follows:
Develop your academic research or professional development proposal:

Academic Research. Refer to the Army Research and Development Plan and formulate a research proposal to the University of NSW (ADFA) or other academic institutions for acceptance.
Professional Development. Identify and gain selection for a professional development opportunity. The types of suitable activities or employment under the professional development strand of the Foundation Scholarship are not prescriptive, but should seek to afford recipients exposure to experiences, activities and learning not normally found in Army. Academic study (that is not research based) falls into the Professional Development strand of the Foundation Scholarship.
Submit the application form. Go through your chain-of-command to submit the application form (found at your career management agency website) with your Commanding Officer's recommendation. Submission to your Career Advisor is usually by 31 March each year. The application form includes:

Personal details including biography and career history.
Scholarship proposal including a synopsis of the proposal, its benefit and relevance to Army, how your proposal contributes to your future development, and your timeline of activities and outcomes.
Academic information including your academic record and research experience and costs associated with your proposal.
Commanding Officer's assessment on your suitability.
Career Advisor's comments on your potential and future employment prospects.
Selection
The Chief of Army selects the scholarship recipients from a short list prepared by the career management agency. The two key areas that are considered are:
Merit of the applicant in the areas of performance, experience, qualifications and potential.
Value and utility of the proposed academic research or professional development opportunity to the Australian Army.
Selections for the following calendar year are usually promulgated by 31 Jul. 
Practicalities
There is a limited amount of funding allocated to the Foundation Scholarship. Applicants outline the costs associated with their specific proposal as part of their application. Normal pay, maintenance of seniority and conditions of service apply.
For academic research, Foundation Scholars are posted to the Directorate of Future Land Warfare. This aligns the recipient's research to Army's research priorities and allows a feedback loop for the research outcomes directly back into Army.
For professional development, Foundation Scholars are posted to a specially created pool position with an appropriate sponsor, either in your last posted location or in Canberra, for the duration of the scholarship.
There is no ROSO attached to the Foundation Scholarship.
Intellectual property and copyright of any research conducted during the scholarship is assigned to the Commonwealth.
Scholarship recipients are required to submit a Post Activity Report within four weeks of the scholarship's conclusion.
Ask your boss for more information about this scholarship and also see your respective career management websites for further information and links to the respective directive.