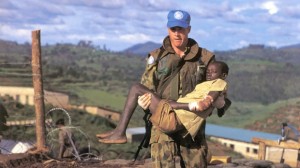 The Chief of Army's Jonathan Church Ethical Solider Award is awarded annually to junior soldiers and junior officers who personify Army's ten core behaviours with emphasis on compassionate and ethical soldiering.
The award is named in honour of Trooper Jonathan Church. Trooper Church was a Special Air Service Regiment paramedic who served with the United Nations Assistance Mission for Rwanda (UNAMIR) and in 1995 he helped save children whose parents were massacred. Trooper Church's actions were historically captured by George Gittoes in the image above but poignantly, his soldiering personified Army's ten core behaviours and the ethical dimension of the profession of arms. Trooper Church was one of the 18 soldiers killed in a training accident when two Black Hawk helicopters crashed at High Range near Townsville on 12 June 1996.
Award recipients are selected by the Chief of Army on an annual basis with a number of recipients also named as Ambassadors. In 2015, nine recipients were named, three of which were selected as Ambassadors. All award recipients become representatives for the Australian Army and receive a fully funded intensive overseas study tour of an Australian Campaign. These tours coincide with commemorative events such as Anzac Day and anniversaries of major battles. The recipients are also on call for 12 months to act as representatives for the Army across both internal and external engagements such as speaking at schools, community/media engagements, key military activities, and commemorative ceremonies and dinners. Selected ambassadors are awarded a Jonathan Church bronze statuette and all recipients receive a Chief of Army Gold Commendation in recognition of their service leading to the award.
Nominations are made by Commanding Officers with the nomination form including details of the nominated member's achievements, relation with peers, performance on promotion courses, and examples of their performance against Army's ten core behaviours of:
Close combat
Leadership
Physical toughness
Mental toughness
Learning and self development
Courage
Initiative
Teamwork
Compassion (central pillar for the nomination)
Respect
The award is open to Privates-to-Corporals and Second Lieutenants-to-Captains with nominations specifically made by Commanding Officers. This award is stressed as a nomination not an application process therefore it is something to keep in mind if you are in command of exceptional junior soldiers or junior officers in order to recognise their achievements. Nominations are usually requested in September and usually close in October the year prior. See your respective career management website for further information and links to the Jonathan Church Ethical Soldier Award directive.
Overall, the Jonathan Church Ethical Soldier Award highlights ethical and compassionate soldiering to all members of the Australian Army while individually awarding soldiers and junior officers who exemplify these traits as a central pillar to Army's ten core behaviours.
It is also a worthy endeavour to read more about the Australian effort at Kibeho, Rwanda here.