The Chasm: Physical and Human Terrain, Training and Reality
We believe that Cultural Intelligence (CQ) is not a desirable capability – it is critical. Cultural training through Army's force generation (FORGEN) system is (we believe) inadequate, providing a surface deep, 'just-in-time' approach that seeks to mitigate rather than exploit cultural agility. This proposal outlines an individual education and collective training framework in an effort to address this shortfall.
The Problem: a Physical and Human Terrain Chasm
The Army's own 'futures' literature paints a daunting picture of the coming operating environment. The Future Land Warfare Report describes a world more crowded, connected and lethal; with militaries forced to operate within mosaic-coalitions of allies, indigenous actors, government agencies and various non-government stakeholders. For the Australian Army, this might be imagined as an intervention into a near-region city-slum, with a battlegroup deployed at short notice. The remit: to stabilise a failed government, and somehow remain at arms length from the gang violence that is intimately linked with government corruption and chaos on the streets. The adversary is not uniformed, has managed to obtain a quantity of credible anti-armour and GBAD weapons via smugglers, and has a broad in- and out-of-country support network (facilitated by personal electronic devices).
Even the casual observer of regional affairs will note that much of this picture isn't a 'futures' one at all; it is already a reality. For Land Forces it paints an intimidating vision of a future fight; a web of the Clausewitzian dictums of a rapidly changing character of conflict, underpinned by an enduringly chaotic nature of war.
The gap between how we train and how we think we are going to fight is, we believe, substantial. Army has recognised this problem, and is seeking to balance it. Training developments such as the incorporation of a live non-combatant evacuation operation (NEO) within EX HAMEL, cooperating with civilians in Whylla, SA, who volunteered to be evacuees, are clearly positive. Army is still a long way, however, from aligning force generation with our own stated vision of the future operating environment.
A small sample (163 members from across Corps and rank) taken from the 2nd Cavalry Regiment suggests a significant lag between our current skill-set and the complex physical and human terrain likely to face our soldiers. 57% of the surveyed population indicated they did not have a good understanding of any cultures other than their own. Further, only 58% of soldiers and junior non-commissioned officers are confident that they could effectively work with coalition forces and other local organisations from within our region. If our soldiers are not confident and feel underprepared then the chasm is real. We intend to present a solution to help cross it.
Training Design and Crossing the Chasm?
Army's training methodology is fundamentally concerned with preparing our soldiers for the reality of war. In the pursuit of this endeavor, we expose our force to austerity through exposure to harsh 'field' environments, often against a thinking peer adversary. We seek to inoculate soldiers to battle through live-fire exercises, and we expose them to experiences of 'fear' through platforms such as Adventure Training. Yet, despite the likelihood of conflict emerging in different cultural environments, soldiers are often only exposed to other cultures through limited international engagement opportunities. Such opportunities are also more commonly associated with English-speaking militaries within a training environment where soldiers are not required to converse with foreign soldiers (less the exchange of basic pleasantries).
Herein lies the problem. The first time a soldier encounters a culture vastly different to their own should not be on operations. Any training focus centered on developing resilience needs to also consider the psychological toll of exposure to foreign cultures where the language, religion, political and ethical domains may all be at odds with their own experiences. Without exposure to these variables, ethnocentric biases can emerge that will degrade the effectiveness of the force and expose the individual soldier to psychological trauma. From 'Green on Blue' attacks to 'moral injury', the ADF's recent operational experiences (and those of her partners) are replete with examples of these failings in CQ.
The Proposal
We propose that the answer to developing CQ lies in the combination of individual education and collective training. CQ should be developed through the same system that trains close combat skills; it cannot be an elective competency.
The characteristics of the system are:
participation and competence is incentivised
the training is owned and executed primarily by the leaders of the Combat Brigade
a series of graduated training steps occurs between Army Training Level (ATL) 1 and ATL 7
ATL-1: Individual immersion: building language and culture subject matter experts
The foundation of CQ lies in language; or more specifically the ability to converse in a language other than our own. While expanding the capacity of our School of Languages is one solution, we propose that learning a language, like most education, can and should be an individual responsibility and carried out in our own time. The benefit of such a methodology is that the ever-demanding training requirements within the Combat Brigades are not affected, and individuals are encouraged to take responsibility for their education.  We see Army's role in this as the provision of the education platform and incentivizing its use.
There are many avenues for language training that already exist. Online programs such as Rosetta Stone are in use with the US military, as well as more than 12,000 corporations globally. Alternatively, there are a variety of available courses through civilian companies, TAFEs and universities. At an individual cost ranging from $200-$2000, we anticipate that the annual cost of such a program for 1000 students would be in the range of $200,000 to $2 million.  Of course, such programs are unlikely to be successful without incentives. We propose two: a financial reward, and a program of foreign immersion. Financial incentive could either be linked to the existing language allowances or added separately, although we recommend a staged progression for allowances to encourage continued study and improvement.
The foreign immersion opportunities could be enabled through soldiers' eligibility for funding after achieving milestones in their study. Rather than embedding soldiers with foreign militaries, we contend that there are more valuable experiences to be gained through in-country experience with NGOs, foreign immersion schools, and Peace or Civil Corps equivalents. Detachments could range from two weeks to three months and should be seen as an opportunity for total immersion in the language and culture of the host country. Funding could be administered at unit level and does not necessarily need to extend outside of the provision of flights and accommodation. Immersion programs could also easily be negotiated with respective NGOs or training schools.
ATL-2-3: Broadening the corporate knowledge and increasing the exposure
Closer to home, there are many opportunities for our soldiers to experience a differing culture through greater exposure to indigenous communities. Existing training opportunities such as NORFORCE patrols and the Army Aboriginal Community Assistance Program (AACAP) already provide the mechanism for this to occur. Such opportunities, however, are often limited to specialist positions. By increasing the access to these training opportunities, we may not only create a more culturally aware force, but also increase awareness of indigenous affairs.
Other opportunities exist with exposure to the Peace Operations Training Centre (POTC) and the inclusion of small teams on activities such as Exercise Garuda Kookaburra. The negotiation and conflict resolution/management skill sets that are taught and practiced can be highly contextualised.  The role players that are employed as part of this activity enable the training of particular cross cultural skills and are executed incredibly well with a level of realism that is often confronting for some students. This is the type of inoculation that prepares our soldiers for future operations.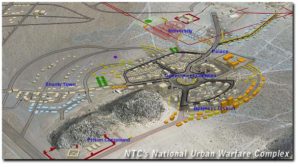 Similar to the Whyalla NEO training, we also see value in more collective training being conducted within existing Australian towns. Despite experiences such as this being considered widely popular by both the training audience and the local communities, such training serials have not become the norm. While there is only limited exposure to cultural training within our own communities, the opportunity to operate within a functioning urban environment and interacting with real people (not role players) is invaluable for our soldiers and may help to bridge the knowledge gap between the military and society. Conducting training in indigenous communities would further combine the cultural, environmental and public relations outcomes that enhance the capability of the force to operate internationally.
ATL5-7 – Centre of Excellence for Military Operations Other than War
At Combat Team and above, we contend that an immersive cultural training centre is required. While conceptual in nature, we draw our observations from the US and UK militaries and their use of large numbers of ethnic role players within a made-for-purpose urban facility. Such methods were employed specifically for the purpose of Mission Specific and Mission Rehearsal Training; however, we see value in such centres being employed on a permanent basis. While the ethnicity of the role players and the construction of the urban dwellings would typically need to be adjusted to reflect the likely or existing operational requirements, there is still value in creating a fictitious cultural environment that embodies aspects of multiple ethnic and societal groups.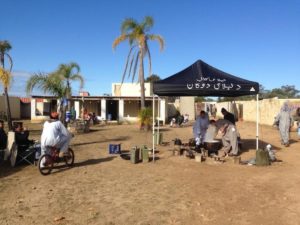 Such a Centre would emulate the mantra of the Jungle Warfare Training Centre in Tully, where a high intensity, highly specific and highly focused training package can be developed  in the jungle environment for Company/Combat Team groups. The training would focus on the urban/fringe/littoral environment, have realistic integration with the "white space" population and community groups (not ADF role players with a preconceived bias of how they need to act), and prepare soldiers to plan and execute mission profiles that are not offensive or defensive in nature like the status quo. A particular aspect of the program would also expose trainees to Joint and NGO/OGA interagency interaction; an almost certain feature of modern deployments, but very rarely trained and rehearsed.
We understand that our pitch is very similar to the concepts presented by James Haw in his idea pitch 'A Cultural and Regional Training Continuum'. We have engaged with James and have decided to be more entrepreneurial and commit to a joint venture. We intend to combine our research and present our pitch to the DEFx board in December under a united banner.
---
About the author:
This pitch has been developed by a Team from the 2nd Cavalry Regiment:
LTCOL James Davis – CO 2 Cav Regt
MAJ Gareth Rice – OPSO 2 Cav Regt
CAPT Lewis Crothers – Sqn 2IC 2 Cav Regt
CAPT Jace Ford – Ops Captain 2 Cav Regt
LT Will Leben – Tank Tp Ldr 2 Cav Regt
WO2 Ben Horton – Ops WO 2 Cav Regt
Story behind the pitch:
The Team from the 2nd Cavalry Regiment came together after hearing about DEFAUS through social media. They formed a discussion group which met periodically to discuss a wide variety of PME topics, with the desired end state to generate an idea to present at the DEFx Forum. The discussion topics varied from Army training institutions, to cognitive combat profiling and an array of other interesting professional discussions.  Each contributor conducted in depth research and challenged one another's understanding. Finally through these discussions a root cause of a lot of the identified shortfalls was identified which led to the concept pitch above.
---
Disclaimer:
Grounded Curiosity is a platform to spark debate, focused on junior commanders. The views expressed do not reflect any official position or that of any of the author's employers – see more here.