#DEFAus17 – Pragmatic Innovation for Military Strength
September 10th, 2017 by Clare O'Neill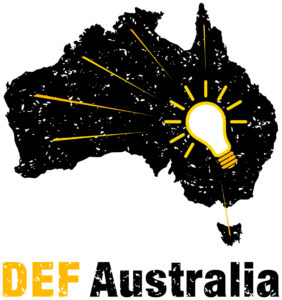 BLUF: Access #DEFAus17 Booklet here.
Introduction – Who we are
There is a culture of innovation and professional curiosity running through the veins of our defence force. We see it when junior leaders conspire together in messes to solve the challenges of our future. We see it when someone has a 'light-bulb moment' at 0300 h on piquet or on the bridge – when clarity is discovered through the chaos of complexity.
Despite some skepticism and pockets of inertia, our military is a learning organisation – receptive of new ideas and actively listening to disruptive thinkers. We also strive to be an organisation of action and teamwork, not inertia and stovepipes.
As serving personnel, we face the challenges of our future as a team – no matter our rank level, service or specialisation. Winning will be driven by our people and an innovative spirit grounded in pragmatism, providing the foundation for agility and adaptive action against an enemy.
Innovation
There is much hype around innovation and this brings risk that the word 'innovation' may become another meaningless buzzword – a box to be ticked on your annual performance report instead of an actionable characteristic that underpins our military strength.
For serving personnel, innovation means our future starts with accountability instead of complaint, and a pathway to action instead of inertia. Innovation in peacetime drives our ability to learn and adapt against an enemy in war. It is here that Australia's serving men and women have a long and proud history of innovation, and our ability to overcome challenges in adversity continues today.
But how do we take your 'light-bulb moment', share your ideas with the team, and then empower these ideas through senior leadership buy-in? The Defence Entrepreneurs Forum Australia (DEF Aus) is one option for you.
DEF Aus Overview
DEF Aus is a network of serving military personnel who debate future concepts and progress ideas to tangible action.
DEF Aus is a subsidiary group of the United States Defense Entrepreneurs Forum and is governed through the Postern Association.
The first DEF Aus Forum (#DEFAus16) was held in December 2016 at the Australian Defence College. 16 serving military individuals and teams pitched ideas to a board that included Chief Joint Operations and Deputy Chief of Army.
Why
To enhance our culture for conceptual innovation through driving ideas to action.
To develop a network of innovative minds regardless of rank, service or specialisation.
To foster cognitive capability and adaptive action for war.
Forum
DEF Aus activities start now (#DEFAus17 Booklet) and culminates in a  two-day solutions-based forum called #DEFAus17.
#DEFAus17 is an event to network and share ideas about our future, as well as provide a space for ideas to be formally pitched to senior leaders.

Where: Australian Defence College, Canberra
When: 14-15 Dec 17
Who: serving personnel – any rank, any service, any specialisation
Contact