#DEFAus17 – Idea Pitchers Webinar, Mon 18 Sep 1900hrs AEST
August 27th, 2017 by DEF Aus Committee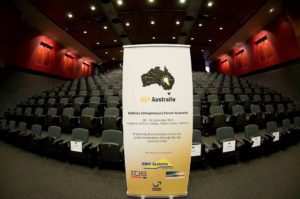 Are you a creative or innovative ADF member? Have you been tracking the launch of the DEF Aus Forum 2017? Seen the #defaus17 hashtag starting to trend? Got an idea that you think you want to pitch, but you're not sure how to get started?
Then our free, online 'Idea Pitcher Webinar' on Mon 18 Sep 2017 at 1900hrs AEST is designed just for you.
DEF Aus 17 will take place at the Australian Defence College in Canberra on 14 – 15 December 17. Around fifteen selected Idea Pitchers from across Defence will get the chance to share their ideas to a panel of senior officers, innovators and leaders. The best ideas may find themselves becoming reality, helping to strengthen the ADF and defend Australia.  You can read more about it in our info booklet here.
The selection of Idea Pitchers takes place from September to December. It works like this. People (individuals or small groups) first pitch a draft idea to the DEF Committee, who help them refine it. Ideas can be about anything! If and when it reaches a certain point, we pair you with an Idea Sponsor: a more experienced ADF member who has the knowledge and the clout to take your concept to the next step. Over about six weeks your idea gains momentum, with you explaining it to an online audience via blog posts and getting advice from the DEF team on pitching. A selection of the best ideas are then pitched on the day to a live (and very friendly) audience.
Last year was the first DEF Aus forum. We had ideas ranging from 'Posting Teams not People', through 'PME Short Courses', and all the way to 'Future Vertical Lift'. You can read about them all here. We learned a lot, and now we want to share our lessons with you. So on Mon 18 Sep 2017 at 1900hrs AEST we are going to hold a free, online 'Idea Pitcher Webinar' for up to 100 interested Defence members. From the comfort of your own home you'll see the DEF Aus team explain the innovation process from start to finish, from top tips on developing an idea and pitching on the day. You'll also get the chance to hear from previous pitchers. It's the ideal way to get going.
Interested? The first step is to email us at defaustralia@gmail.com. Let us know who you are, why you want to attend the webinar, and (if you have one) the outlines of your idea. We'll then get back to you with the details. The only limit is that you have to be a Defence member – any service, any SERCAT.
Thanks for taking the time to read about DEF Australia, and we look forward to seeing you soon!