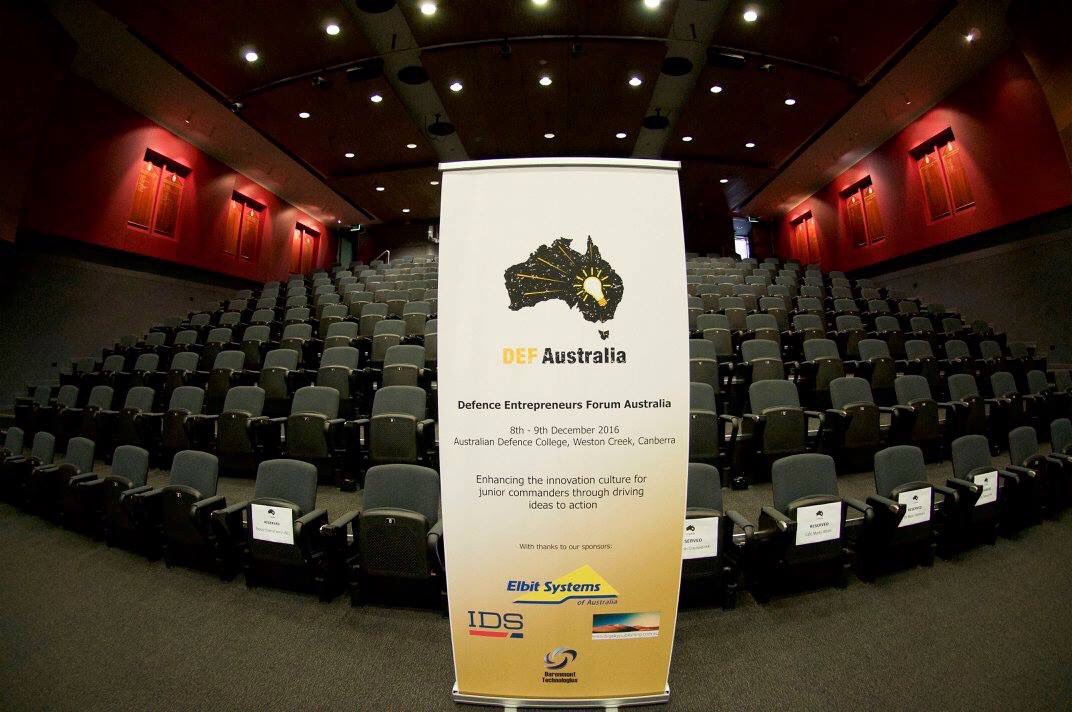 Like all good TV sitcoms after the last episode has aired and the cast has moved on to bigger and better things, we get dragged back to see where they are now and reminisce about how spectacular that show really was. DEF AUS 2016 was much the same, right? It had highs, we all left the event inspired, happy and motivated to take over the world. So then, where are our idea pitchers now? Or more importantly where are their ideas headed?
Cultural Training in Army: Regional Training Continuum (2 Cav Regt Team):
The team from 2 Cav are still working on their idea and are looking at how the UK is working with culturally aligned Brigades. They plan on publishing a discussion paper later in 2017.
Increasing cultural agility through language training access (Jonathan Hibbert):
In the short term, it raised the importance of the Military Language Aptitude Test (MLAT) and individuals nominating for a course at the Defence Force School of Languages (DFSL). However, long term the plan is still to incorporate MLAT on all initial training courses to identify potential for languages and encouraging each and every individual to learn a language. Technological advancements in translation technology (like Google translate as an example) could be incorporated in the future training and education environment – especially if head-mounted technology (see Rob's idea below) is introduced.
Jon is still busily working on raising the importance of language training to many organisations not just in Army but also in the wider defence community.
Augmented Reality and Wearable Technology (Rob Morris)
Rob has been working extremely hard, pushing his ideas forward into the defence arena. In the space of 6 months, he has linked in with Navy, Air Force and CIOG augmented reality programs as well logistic software replacement programs to incorporate augmented reality. With support from Director General Training and Doctrine, an augmented reality project will commence at the Army Logistic Training Centre early next year. Rob also delivered a business case and received funding from Forces Command and Army HQ to travel to the World Augmented Reality Expo in the United States. Stay tuned, Rob's passion for improving technical training will see him help change the way we currently do day to day business. Rob will be speaking at the Institute for Regional Security (IFRS) Next seminar in July.
Professional military education short courses (MOOC) (John Shipp and Nick Waugh): 
Have you seen (or done) any of the MOOC's on The Cove? Or read John and Nick's proposed way forward for MOOC's on Grounded Curiosity?  Through hard work and a clear, logical plan, John and Nick have managed to start the MOOC journey for Army. Nick and John are also engaged with the 2nd Division to scope the creation of Professional Military and Education (PME) courses using Defence's existing distributed learning infrastructure. This idea can only get better through engagement by you, the military professional.
Future Vertical Lift (Rob Andrew):
Just like the sitcom reunion episodes, sometimes there's a favourite character that has slowed down, even though there is much potential to be had. Unfortunately, uptake on the future vertical lift idea has been slow, however, this has not dampened Rob's spirits. He's still pursuing his ideas through Future Land Warfare Branch and through applying for support to future study in this area. If you're interested in future vertical lift, or you're involved, please contact Rob.
Army High-Performance Initiative (Anthony 'Harry' Moffitt)
Harry has managed to secure $1.1M funding for his Wanderers Education Program and seeks to raise at least another $1M more in 2017. The real success of this program will be in establishing a network of Wanderers Scholars which will aid in advocating an Australian version of a Soldier Education Bill. Harry is very passionate to get more soldiers involved in both education and DEF AUS for 2017.
Local Mentoring Nodes (Kat Christie and Kate Tollenaar)
In early 2017, Kat and Kate published an article on how to establish a mentoring node through Grounded Curiosity. The Simpson Barracks Mentoring Node continues meets to monthly and the 2017 Group has focused study on areas including emotional intelligence, high performing teams, and preventative mental health. Stay tuned for the digital age when all the Group's work goes online which will be linked to The Cove's network.
Leadership Mastery (Tom Larter)
Tom's idea has been sponsored by the Deputy Chief of Army and will be supported through the ADF's Centre for Defence Leadership and Ethics.
Less-than-lethal shotgun capability (James Alexander)
James is still working through less-than-lethal shotgun capabilities through his corps. With a clear list of goals, James has a progressive approach to introduce this capability into Military Policing tasks.
Digital improvement of military hospitals (Nick Alexander):
After DEF AUS 16, Nick has teamed up with industry to develop a concept demonstrator for a deployed digital hospital management tool. Nick has trialed it in the field and is hoping, with support for 17 CSS Bde, he can get this through the innovation hub. All things going to plan, there are opportunities to continue building and developing this idea through further trials and exercises.
Hypersonic flight capabilities (Christopher Bulow):
Christopher, and his idea mentor, have been proactive in getting involved in existing projects within Defence. In early 2017, Christopher met with Defence Science and Technology Group and the Vice Chief of Defence Group to discuss his idea pitch and how it can be incorporated further.
Joint PME Association (Emily Chapman):
Emily's idea was so good, we stole her and made her part of the Postern Association family. Emily is currently fulfilling the role of the Operations Director for Postern Association and, with the help of RAAF and RAN LO's, is ensuring that Postern and DEF AUS activities have a joint flavour. Thanks Emily!
Smart Teaming (Jon Ozols and Tom Day) 
Tom and Jon have developed a Scheme of Manoeuvre for a way ahead for smart teaming with a key decision point revolving around a two-four year trial of a smart, corps based, team. Ideally, this would be over the period of two posting cycles to determine if small groups being posted together makes a difference to performance. To allow this to occur the idea requires buy-in from key decision makers (CA, DCA, DG PERS-A, DG CMA) and would require scientific support from Defence Science and Technology Group.
Cyber Training (Kent O'Sullivan and Ben Rice)
Kent and Ben's idea has highlighted the need and desire to incorporate cyber training and awareness across many forms of training within Army. The first step is introducing this concept to the All Corps Officer Training Continuum (ACOTC) suite of courses and Forces Command is working with Officer Training Wing to see how this can evolve into a more formalised training package.
Conscious Cognition (Steve Cotterill) 
Steve is continuing to research and experiment (largely on himself) on how conscious cognition aids in the learning process. It is something Steve continues to be passionate about and with the help of Army's Education Corps the next step is to figure out the most appropriate way to implement these learning techniques in the military training and education environment.
As you can see from the stories above, there are many reasons to pitch an idea at DEF AUS. It may be to change your organisation, or it could just be to get the discussion going. Either way each and every pitch has brought something to the party and has got people excited to actually make change. From our 2016 idea pitchers the key hints and tips are to have a plan, don't be afraid to work hard and don't be afraid of hitting road blocks. Just think to yourself, what do you want out of this? Then go get it! Check this out to learn more about DEF AUS 2017 – we will see you there (hopefully)!