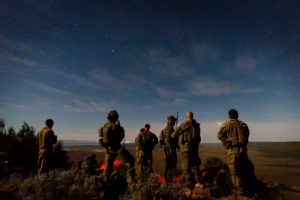 Do we know why it works or are we doing what we've always done?
The current Australian Army leadership model is an effective means of developing officers and non-commissioned officers (NCO) for operational service. Despite ongoing success, it is worth asking the question: is the system as effective as it could be?
To answer the question, it's important to understand what the system is and how it operates. The system is different for officer training and NCO training. Both systems rely on the transfer of tacit and explicit knowledge but they place different emphasis on how that knowledge is acquired. Tacit knowledge is knowledge that is not written down or qualified. It is knowledge one gains through experience. Explicit knowledge is knowledge that is written and codified. It's knowledge that the Army normally transfers as a qualification or training course and can be quantified.
How do we train leaders in the Australian Army?
The Officer training system relies on explicit knowledge transfer over an 18 month first appointment course (FAC) to provide dedicated leadership training for tactical command. This is supported by further explicit knowledge transfer at corps or trade training during regimental or logistic officer basic courses (ROBC and LOBC). The system relies on an intense period of explicit knowledge transfer reinforced by tacit learning gained in an officers first command of a platoon or troop, traditionally in a regimental environment. From this point onwards, experience of command (tacit knowledge transfer) is the primary mechanism of leadership development up until unit command.
The NCO training system places a reverse emphasis on tacit and explicit knowledge transfer. The NCO system is derived from tacit knowledge gained through practical experience and exposure to leaders within the context of a soldier's trade employment. A standard package of explicit leadership training is provided through the Army's Junior Leader Course (JLC), normally conducted in a soldiers second year of service. Each Corps reinforces the explicit training of the JLC with additional promotion courses though the level of leadership vice trade skills practiced and taught on these course varies markedly.
Neither system is reliant on only tacit or explicit knowledge transfer and both operate simultaneously in most cases. The FAC explicitly teaches leadership but this is reinforced through routine application and testing of practical leadership in administrative and tactical leader roles. Likewise, soldiers experience leadership as followers prior to attending the JLC. The tacit knowledge they possess of leadership through follower experience is reinforced by explicit leadership training during the JLC. Unit training, professional military education and mentorship of junior leaders are nascent elements of the leadership training system that the Army relies upon. Combined, these elements form the basis of leadership training and development for junior officers and NCOs.
The Army's system of leadership development has remained relatively constant throughout the Army's history. The degree to which the training has focussed on leadership or technical skills has ebbed and flowed but the underlying basis of explicit Officer training through Duntroon was established in 1911. The system to train NCO's, sometimes with and sometimes without formal leadership training, has been based on tacit knowledge and practical demonstration of leadership qualities. The system has been successful and continues to be today. Is it efficient though?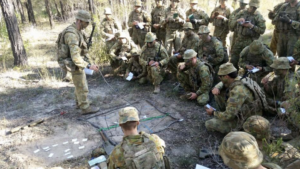 Investing in Junior Leadership – Improving the Human Dimension
My review of the current leadership model suggests two aims: First, to confirm if the currently successful model is the most efficient and effective mechanism to create and retain junior leaders; second, to confirm if changes in the army training model and Beersheba restructure have impacted leader development. I'll focus upon two areas for why I believe a review of the leadership model is necessary. The first is improvements in knowledge of neuro science and biological performance have created potentially more efficient mechanisms to select, train and educate military leaders. Secondly, the dependence on tacit knowledge transfer for NCO development requires repetition, experience and leadership examples that reinforce Army's desired or exemplar leadership form. Recent changes in the raise, train sustain (RTS) model moving to a three-year cycle (R3) and force structure changes under Plan Beersheba have impacted the volume of repetition and experience soldiers access in any single year. This has consequences for a tacit development leadership model.
Improvements in our understanding of neurological and psychological aspects of human performance are worth evaluating for their usefulness in Army's leadership development model. Advancements in our understanding of decision making, information retention and cognitive capacity illustrate that techniques for improving speed of thought, memory capacity and more quickly achieving 'expert' levels of knowledge exist. Many of these improvements are likely to validate the current model by I suspect some will challenge historical thinking and identify areas of deficiency that could be readily addressed.
Changes in the R3 model for RTS of collective capabilities and the impacts of creating common or 'like' combat Brigade structures have impacted the opportunities for gaining experience through exposure and repetition of military activities. Military leadership requires the combination of military competence and leadership qualities. The NCO development system, which relies predominantly on tacit knowledge transfer, is impacted by change that reduces the frequency of exposure and opportunity to perform military tasks. The R3 model reduces repetition by a third and the Beersheba structure has expanded the roles of infantry and armoured units away from specified light, mechanised or motorised roles; increasing the diversity of training undertaken at the expense of repetition. This is not a criticism of change – many positives have been gained – but it is recognition that we should at least review the impact of the change and where necessary, compensate any weakness incidentally created in the NCO development model.
To close I want to leave some thought bubbles for discussion;
Do discrete Officer and other ranks (OR) leadership models produce the best results? Would we be better served by direct entry recruiting junior leaders at the NCO level and developing them through an explicit training model (as we do with officers)?
Do we manage leadership talent at the OR level effectively? Would we be better served by identifying leaders during recruit and IET training and siphoning targeted members into accelerated leadership development programs?
Are we doing enough to evaluate our evolving awareness of cognitive performance against our leadership development practices to ensure we invest appropriately in human advantage?
---
About the Author
MAJ Scott Holmes is an Infantry Officer, serving predominantly in The Royal Australian Regiment. Scott is passionate that the key to military effectiveness remains human excellence. Scott is currently studying at the Australian Command and Staff College and is a member of the DEF Australia Executive.