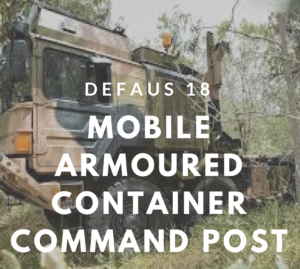 Luke Judd has an idea
Units currently rely on tents for the operation of headquarters, command and control function in the field and while on exercise. Modern direction finding and integration of joint fires effects from HIMARS or 3M-54 Kalibr / Klub missile systems, has made the tent an extremely vulnerable point anywhere on the battlefield. Armoured containers are provided at Formation Headquarters and Battalion level. With STANAG 4569 Level 1 protection, those operating inside have protection against small arms fire at 30m, and up to 155mm artillery landing at 100m away. This gives the HQ node a better chance of survival, and is able to be moved at very short notice. These containers would have communication equipment permanently installed and make use of HF-NVIS.
See full idea pitch: #DEFAus18 Idea Pitch – Mobile Armoured Container Command Posts and join the @DEF_Aus conversation on Twitter by following #DEFAus18 from 15-16 Nov 18.