You are a physically strong, focussed and resilient individual. You know how to maintain and grow your physical health but how do you maintain and grow your mental health? How do you keep your mental muscles strong and flexible? The Military Mindfulness App is interval training for your mind; it acts as a preventative tool through a mix of preventative approaches including meditation, mindfulness and positive reinforcement.
An important feature of this tool is the access 'whenever and wherever' you need it through a mobile phone app based approach. Your preferred solutions, ranging from mediations to mindfulness activities to inspirational quotes can be preselected, downloaded and saved as favourites, enabling you to access "offline mode" and provide support wherever you may find yourself needing it.
The Military Mindfulness App would complement the current suite of Health and Wellbeing offerings on the Defence Network. This wellbeing resource would provide Australian Defence Force personnel with tool aimed at minimising stress and anxiety, boosting confidence and diffusing immediate side effects of emotional distress. These practical suggestions will be useful for individuals and colleagues alike with the hope of preventing an preventing escalation of issues.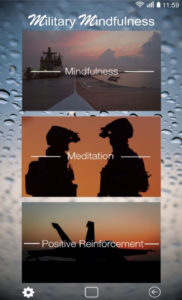 App Features
• Offline mode enables you to listen to downloaded sessions without Wifi/4G
• Category based sessions for ease of access
• Choose your own adventure style scenarios targeting common stress triggers
• Session will be focused on mental maintenance assisting with the prevention of panic and anxiety attacks and both acute stress disorder and post traumatic stress disorder
• Being accessible while on duty/operations without the need for internet connection provides 'just in time' learning, giving users mental tools and techniques to keep your mind in check.
Usage
The Military Mindfulness is specifically targeted to Military members (both current and Ex-serving). The project team see our app being used by Military members as a stress preventative and mental maintenance tool, which can be used during or after deployment. Take advantage of its offline capability to keep your mind in check – anywhere anytime.
About the Authors
Steve Funnell has worked at the Department of Defence since 2005. His background is in web development, Learning Management System administration and building Learning Strategies for Defence.
Chrisafina Rick joined the Department of Defence in September 2017 and previously worked at the Department Environment. Chrisafina has a background in Ecology and as a fitness instructor. Chrisafina has worked towards helping others development in not only physical fitness, but also mental fitness as well.