The Royal Australian Navy, Australian Army and Royal Australian Air Force are worldwide competitors in strategy, technology and serious contributors to global order. Achieving ground-breaking capability is only possible by linking the technological element of capability to its people. It is not uncommon for ADF personnel to display notions of confusion or inexperience in the knowledge of wider ADF capability. The concept surrounding this proposal is such that ADF personnel receive consolidated yet incremental joint capability training that enables joint warfighting and support for the service of Australia and its national interest. The effect of this proposal would create minor change to existing service promotion, subject and Proffessional Military Education and Training (PMET) courses currently utilised to prepare ADF personnel for advancement.
Royal Australian Navy
Vice Admiral Tim Barrett AO, CSC spoke of Plan Pelorus during a seminar at the National Gallery in August 2016. He stated "Pelorus acknowledges the changing character of global affairs, and recognises the need for us to set a heading for a fifth-generation Navy and beyond. It recognises the need for a force capable of generating and deploying self-supporting and sustainable maritime and joint task groups". He goes on to acknowledge that people are and shall remain the most significant driving success and that people will be trained to operate in this environment.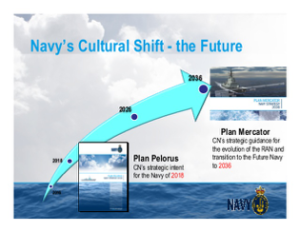 Australian Army
Plan Beersheba, includes the vision that by 2025, the Army will have evolved its ideas, operating concepts, structures and its people so that it is best placed to exploit the opportunities of the digital age, is a capable member and contributor to the joint force, and is able to survive and succeed in the future threat environment'. Beersheba also outlines the contribution 2RAR will make to Australia's first truly embarked amphibious force. Exercise Talisman Sabre 2017 is scheduled to provide proof of concept prior to consideration of a sustained joint amphibious effort.
Royal Australian Air Force
Plan Jericho was launched by Air Marshal Geoff Brown, AO in February 2015, which aims to transition Air Force into a fifth generation-enabled force fully integrating air power assets into the joint environment. This plan has gained traction with Air Marshal Leo Davies AO, CSC stating that "We will work with Army and Navy to ensure we deliver a networked future joint force across the spectrum of air, space … and cyber". The intent is to raise, train and sustain a highly effective joint force working together with Navy and Army in order to effectively harness the combat potential of a fully integrated force.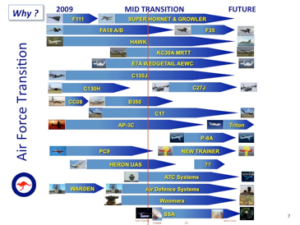 Criticality
Each respective service has a plan leading them into the future, however one element is clear above all, the future is invested in joint capability. Air Marshal Davies and Vice Admiral Barrett both agree on a clear message: "the sum of the Services operating together is clearly greater than any of us operating individually." Strategically, this message is clear. It is therefore critical that operational and tactical operators understand the technological and operational capability offered by their respective service counterparts.
Understanding the contemporary military environment is vital to understanding why joint capability training is necessary within the NCO, SNCO and junior officer ranks.
Conceptually, the Three Block War helps to explain what was coined the Strategic Corporal by USMC General Charles C Krulak. The Three Block War is so termed to describe the speed at which critical decisions need to be made by our junior leaders in times of peacekeeping, humanitarian aid, and warlike campaigns. The Strategic Corporal is seen as the lowest level of decision-maker that requires a high level of training in order to demonstrate understanding, decision-making and leadership across a complex spectrum of issues. Lieutenant General (rtd) Peter Leahy, AC, states "The soldier of today must possess professional mastery of warfare, but match this with political and media sensitivity".
Proposal
ADF personnel in the contemporary military environment require institutional support for understanding joint capability in order to facilitate legitimate and ethical decision-making. The most effective and efficient way of incorporating a foundational understanding of joint capability is through educational doctrine, focusing on NCO/SNCO/junior officer rank levels and involving continuous growth as progression is earned.
Incorporation Strategy
This concept is such that the incremental education continuum deliverable through this proposal be incorporated into existing professional military education training programs in a residential and rank specific manner. Table 1 captures a preliminary implementation strategy.

The preliminary training level includes a package of deliverable material that covers the tangible assets employed tactically by Australian forces. Maritime, land and air power assets are at a time of convergence in technological leadership. In the past five years, over half of ADF deployable assets have been upgraded in order to match the contemporary peacekeeping, humanitarian aid and war fighting requirements. Where once our people were able to readily identify many of these assets, this understanding has been lost.
The intermediate training level includes a package of deliverable material that integrates key linkages between tactical assets and operational enablers; the net effect of employing joint capability in order to deliver outcomes at the regional level.
The advanced training level includes a package of deliverable material that could be likened to a pseudo 'Joint Warrant Officers Course' focusing primarily on strategic utilisation of joint resources in pursuit of high level outcomes; the global contribution to peace.
In order to assess the resources and capabilities required to incorporate this concept, education officers from the respective services will need to be engaged. The time costs associated with this concept are largely concerned with the development of the deliverable courseware; we are confident extensions in course duration are not required based upon the current scope.
The era of the strategic Corporal is here.
---
About the authors
Clifford Brown is a Pilot Officer in the Royal Australian Air Force having served as an Aircraft Technician since 1994. Clifford commissioned as a Logistics Officer in 2016 and is currently completing a Business degree at the Australian Defence Force Academy.
Matthew van der Vloet is a Pilot Officer in the Royal Australian Air Force having served as a Communication Electronic Technician since 2005. Matthew commissioned as a Personnel Capability Officer in 2016 and is currently completing a Master of Business at the Australian Defence Force Academy.