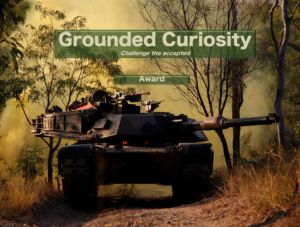 Teaming with our soldiers will, in time, be these three technology areas–robotics, autonomous systems and Artificial Intelligence. They are part of a wave of technological development that will change the world. As with any approaching wave, there are choices in how we handle it. We can ignore it, pursuing 'more of the same' and risk being tossed around and left floundering in the wake.  We can take a breath, dive under it and hope to come out on the other side, seeking time to assess which technologies we will acquire. Or we could start paddling now, riding the wave to secure an innovative and technological future – LtGen Angus Campbell, Chief of Army
Grounded Curiosity Award
The Grounded Curiosity Award recognises significant contribution to learning and adaptation as a warfighting foundation, as demonstrated through a submission to Grounded Curiosity. Download the Award Information Pack here.
Eligibility
The competition is open to members of the Australian Army.
Submission Guidelines
Format may include essays, posts, aide memoires, videos, podcasts, and vignettes.
See suggested topic list for inspiration noting any topic will be accepted.
Written work is not to exceed 1500 words and audio-visual work is not to exceed 15 minutes.
Submissions must be original work, and include a title and short author biography.
Previously or pending published work is ineligible.
Submissions will be checked against editorial standards for quality / value, and security and public comment prior to publication.
How to enter
Submissions are open now and close 20 Aug 18.
Early submissions are strongly encouraged as posts will be published when received throughout the year.
Submit your entry to groundedcuriosity@gmail.com
Award
Two winners will be announced on 10 Sep 18.
Winners will receive a grant up to the value of $2,500 each to be used for professional development. The location and timings of this opportunity will be decided in consultation with the winner and the winner's chain of command (before public announcement) but must be used in 2018.
Award Criteria
The judging panel will identify the award winners using the following criteria:
Relevance. Relevance to the profession of arms. Develops and enhances professional understanding of the topic in question.
Insight. Offers unique and / or fresh insight on the topic presented. Demonstrates innovative and creative thinking.
Reach. Promotes wider discussion in the Defence and security community.
Potential. The author demonstrates potential to independently attend a professional development opportunity, critically analyse the material, and present their lessons/conclusions to a wider audience.
Topics
Stuck for a topic? See our GC Award Information Pack for inspiration.
Contact us
Queries and entries to groundedcuriosity@gmail.com
Best of luck!