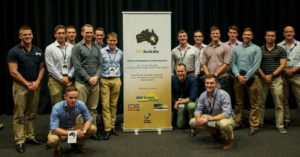 From 08-09 December 2016, the inaugural Defence Entrepreneurs Forum (DEF) for the Southern Hemisphere was held in Canberra, Australia.  It was an exciting two days and ensured we all finished the year with an intellectual boost.  The first DEF [Aus] was the manifestation of an idea which began with the first Defence Entrepreneurs Forum held in Chicago in 2013.  Providing a forum for bright, passionate members of our profession to discuss innovation in national security, it inspired an Australian participant at that first DEF to look at something similar down under.
And so, in early 2016, Clare O'Neill assembled a team of Army officers who shared her vision of broadening the opportunity for members of the Australian Army – and beyond – to talk about their institutions and advocate for innovative change.  The event of 8-9 December met and exceeded the aspirations of the organisers.  Before a full Blamey Theatre at the Australian Defence College, 16 different Idea Pitchers presented their ideas to a judging board comprised of members from across three Services and academia.
During the two days, attendees also received a series of presentations from people like Professor Dan Marston, Dr Mark Thomson, Jasmin Craufurd-Hill and Dr Peter Dean.  But the main game was the idea pitches, which took place on 9 December.  However, it is not the place of this article to list all the pitches; they are available here.  The aim is to provide some reflections from my personal involvement in DEF and some thoughts on the way ahead.
First, it was clear that there are many young officers who care deeply enough about the future of their Army to invest their own time in this.  Equally, they possess the courage to stand before their peers and seniors to pitch their ideas.  Provided we listen to these young innovators,  is a good sign for the future of the Army.
Second, it was also apparent that are also as many mid rank officers who have taken it on themselves to mentor this group of innovative young officers.  For almost a year, a dedicated group of Majors from staff college and across the Army laboured to assemble the first Australian Defence Entrepreneurs Forum.  The possess of such a group of innovation advocates is a tremendous asset in any organisation.
Third, our culture is evolving with respect to young officers having their say.  This certainly was not a strong point of the Army that I joined nearly 30 years ago.  But now, we possess a generation of young officers and soldiers who are connected into a global discourse about their profession. Many of our young officers and soldiers now see this kind of semi-public advocacy for new ideas as a central part of their duties as members of the profession of arms.
Fourth, DEF [Aus] saw the majority of its participation from members of the Army – but not exclusively. There were members of Navy and Air Force in attendance and one of the pitches was from an Air Force officer. But we might consider how to broaden DEF across the Services (or indeed other agencies) for a subsequent DEF [Aus] in 2017. While the tweet wall at DEF ensured a large virtual audience, representation from a broader variety of participants can only make DEF a richer experience for all.
Finally, it is critical that the momentum generated this year be sustained.  While a follow up DEF is all but assured, other mechanisms are also required to keep the innovative fires burning for participants – and potential future participants – over the next 12 months. Discussion boards on Slack have been established and potentially local 'agoras ' are some of the ways this momentum can be sustained.
The Defence Entrepreneurs Forum last week ended up being two of the most intellectually stimulating days that I spent all year.  In listening to the ideas pitchers, and in discussions between sessions, I was filled with great optimism for the future of our institution.  But we must also ensure that we follow through with seeing ideas through to reality. The ideas presented at the forum will all, in some form, have a future in our institution.  I look forward to playing my role as an advocate for these ideas – and connecting innovative members of our organisation to those with the resources to make these ideas a reality.
---
About the author
Brigadier Mick Ryan, AM is the Australian Army's Director General Training and Doctrine and authored A study of Army's education, training and doctrine needs for the future.