Idea Pitch – Head Up, Eyes on Target, Hands on Weapon
October 11th, 2016 by Robert Morris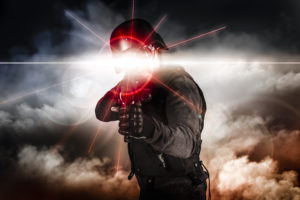 Augmented Reality and the Future Australian Soldier
The augmented reality (AR) game Pokémon GO was recently released in Australia, and became an instant sensation. Quietly, on the other side of the world, the Israeli Army purchased its first two sets of the Microsoft HoloLens augmented reality headset. Israel has decided that it needs to be an agile and innovative force, integrating new technology and advanced tactics, in order to keep two steps ahead of its adversaries. And they aren't wasting time; Israel plans for the HoloLens to be used on active duty within the next few months.
The Future of AR in the Army
The next generation of soldier combat equipment will use AR to enhance situational awareness by delivering an intuitive, digestible flow of fused data through a hands-free head-up display. It will deliver advanced night fighting capability, integrate with precision targeting systems, stream UAV feeds, integrate with 'Internet of Things (IoT)' connected sensors and even allow soldiers to see through armour.
AR is not just for the combat arms. For a maintainer, the ability to access data while keeping their hands-free is just as important. AR will allow maintainers to view publications, order parts, and video-link with experts to solve complex problems.
In situations where it is not possible to get specialist medical care, AR enabled telemedicine presents as a good option.  Medical procedures can be conducted by a medic, under the guidance of a specialist who will interact with them virtually. While inferior to having the specialist actually perform the procedure, in emergency situations it has the potential to save lives.
Of the future potential for AR in intelligence applications, the recently appointed US Special Operations Commander, GEN Tony Thomas, said:
We are going to interface our traditional intelligence with our operators so they will literally [access intelligence] hands-free, while they're doing whatever their job is, be it closing with the enemy or [doing] civil affairs work. The only movie I watched in Afghanistan…was Minority Report. [I thought] that's what I want, with the touch of a fingertip, I want to be able to bring everything we know."
AR doesn't just allow us to see what is happening, but allows us to envisage what is possible. Instead of overlays and mud models, staff officers of the future will build their plans in a virtual 3D environment. Commanders could look out onto the battlefield and see a virtual representation of the plan, and simulations of how the battle could unfold.
The potential training applications are also exciting. In the near future we will have the ability to fight a virtual enemy, integrated with the laser engagement system, and displayed through the soldier's HUD. Large-scale exercises will have a blended real/virtual enemy that will look and fight like the enemy we are training for, rather than an enemy that looks, thinks and acts much the same way we do.
How to adapt to technological disruption?
AR technology is advancing at a rapid pace, on the back of huge investment by the consumer technology industry. Traditional lengthy implementation timelines will likely result in hardware and software that are redundant before they reach the soldier on the ground. AR will reach its full potential only when put in the hands of its users—allowing them to discover new and novel uses for the technology. As the HMSP-A, MAJ GEN McLachlan, said recently:
"[with new technology] there are no rules to fall back on…you've actually got to put the thing in soldiers hands, let them play with it, let them test it, let them operate it, and they will come back to us with ways to utilise it that we hadn't envisaged."
AR is one the technology 'megatrends' (along with artificial intelligence, 3D printing, autonomous vehicles, blockchain technology and the IoT) that will have a disruptive impact on our society in the future. The interaction of these technologies with the future operating environment 'meta-trends' (crowded, connected, lethal, collective and constrained) will shape the future of conflict.
In the post-cold war era, spending in technological research and development has transitioned largely from the public to the private sector. This transition has made it far easier for non-state actors to access high-end technology—a phenomenon known as the democratisation of technology. The future struggle for technological dominance will not only be decided by who has the best technology, but by who can best adapt to rapid, disruptive technological change.
We should look to how other nation's militaries are adapting. The USA last year established the Defense Innovation Unit-Experimental. The unit—which reports directly to the Secretary for Defense—now has three offices, located in the tech hubs of Silicon Valley, Boston and Austin. Most staff have a combination military and tech industry experience, and they collaborate with tech entrepreneurs to take on the opportunities and challenges of new technology. The Israeli Defence Force's 8200 unit takes some of the brightest minds in the country and sets them to work on intelligence-gathering and cyber warfare projects. Not only has 8200 been responsible for making the IDF a leader in cyber warfare, but the Unit's alumni have gone a long way to making Israel a global tech-hub.
We should also look to non-state military organisations for lessons, like Daesh's renowned use of Twitter as a potent IO and recruiting tool; or the 2008 Mumbai terrorist attacks, in which:
"Handlers in Pakistan walked individual terrorists through specific actions step by step over satellite phones, monitored Indian news channels and the Internet, and used Google Earth for targeting."
Fast forward that 20 years and you can change that satellite phone for see-what-I-see augmented reality over a HUD; add advanced 3D printed weapons; and semi-autonomous, armed, IoT-connected UAVs; all funded through an untraceable blockchain currency. It gives you a glimpse of the potent combination of new technology and an innovative approach in the future conflict environment.
Outside of a military context, we can look at large corporations, who face many of the same barriers to innovation that we face: risk-averse and failure-intolerant cultures, long and costly funding cycles, restrictive bureaucratic silos, and complex governance structures. Big companies are reacting to the threat from highly innovative and disruptive start-ups by thinking big, starting small and learning fast.
Conclusion and questions for you
AR is powerful new technology, but the key to gaining a capability edge over our adversaries will be in how we exploit its potential. We must be willing to take risks with new technology and 'fail fast'. We must be agile, collaborative and innovative. An early investment in AR will not only deliver a capability edge, but could build the foundations for a new way to adapt to disruptive technological change in the future.
The next step for the Army to exploit the potential of AR is to identify the most promising potential use case, then get the technology into the hands of soldiers as quickly as possible. Not only will this inform the future capability development, but it will contribute to a new way of thinking about how to adapt to new technology. This is the idea I will pitch to DEF[X] Aus later this year.
To help me refine this idea, I am looking for your help to answer the following questions:
Where should we introduce AR now to achieve the biggest impact, and what are the most promising areas to explore in the future?
What challenges or drawbacks can you see with AR technology that need to be addressed?
What strategies should the Army implement to deal with disruptive technological change?
If you have a view, just comment on this post, or email defaustralia@gmail.com. I'll then get back to you; either openly online or via a private message. Thanks for your support – I look forward to hearing your views and seeing you at the DEF[X].
---
About the author 
Robert Morris is a junior RAEME officer in the 1st Aviation Regiment.
---
Disclaimer
Grounded Curiosity is a platform to spark debate, focused on junior commanders. The views expressed do not reflect any official position or that of any of the author's employers – see more here.